DHP301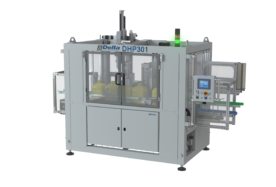 Handle-applicator
The DHP301 is a fully automatic, single head handle-applicator for bottles.
Completely servo driven. Speed: around 800 – 1200 BPH.
Thanks to its design, it is one of the most compact handle-applicators available, because we get rid of the handle unscrambler.

Need
When blow moulding big bottles (> 2L) by the two-stage process, it is impossible to blow a handle into the bottle itself. Therefore, instead of blown handles, you have external plastic handles. A handle-applicator applies these.
(In the one-stage process, on the other hand, you can inject the handle immediately onto the preform. And for smaller bottles, the deep grip technology is available as well.)
However, the traditional way of injection moulding external handles gives rise to many problems.
For example: When producing handles in bulk, the operator often has to cram many handles in a box in a disorderly way, when the plastic has not even cooled down yet. This often results in warping, shrinking or deforming the handles. Consequently, this causes line stoppages, jams, etc. At least, this is the case with conventional handle-applicators.
So in order to prevent this, we at Delta Engineering have designed this handle-applicator in such a way that the handles are stackable.

ADVANTAGES of our revolutionary stackable handle design:
– On the injection side:
The injection moulding robot can stack the handles in piles directly, without the need of human supervision.
The stacking avoids that the handles are thumble packed. So we prevent deformation.
By stacking, the handles can still be warmer without deforming. This means that the handle-applicator can run faster. Then, the stacks can cool down quietly.
Once it reaches the right amount, the conveyor indexes and the stacking can restart. As a result, you save on labour.
Moreover, more piles of stackable handles fit into a box. No waste of space, so you save on package and transportation costs.
– On the blowing side:
The piles of handles go into the machine onto a handle infeed conveyor. This allows you to place 10-20 piles of each 30-60 handles into the machine.
Thanks to this, the autonomy of the handle-applicator is typically between 30-60 minutes. Handle piles can be added without stopping the machine.
Then, the machine unstacks the piles and applies the handle on the bottle. The applicator head supports the bottle internally when applying the handle. Consequently, this resolves the bottle crashing when applying handles on warm HDPE bottles in bottle production environments.
COMPONENTS
In/outfeed conveyor
Handle infeed conveyor
Handle-application head
Machine frame
The infeed conveyor can be any type, chain or flat belt.
Delta Engineering can supply you the handles as well. One of our partners designs them. There is a lot of detail in the development of a handle, so profit from our experience!

OTHER VERSIONS
Handle-applicator (with handle unscrambler): DHP200

RELATED
Takeout tool for stackable handles: DHP010

PRICE
RESOURCES
If you need further information or if you have any questions, suggestions or comments, please contact us on:
Contact details