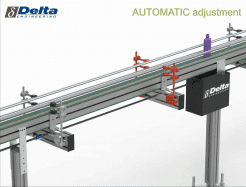 (Automatically) adjustable side guidings
System to adjust the side guidings. Can drastically reduce changeover times of conveying lines! Different versions available: manual – manual, speedsets – manual with handwheel – automatic (servo controlled).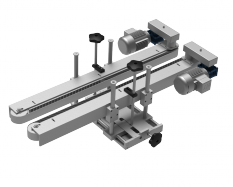 Side grip conveyor
This side grip conveyor uprights lying bottles, transfers bottles from one conveyor to another, avoids bottles being pushed through,… For base inspection etc. Available in different lengths, speeds and drive systems.