DHP200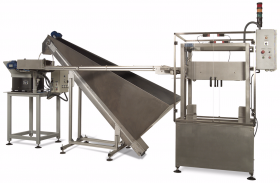 Handle applicator
The DHP200 is a fully automatic handle applicator for bottles.
Speeds: up to 6500 BPH, depending on the version. Or, there's also the possibility to twin the vibrating bowls, so then you can reach 12000 BPH.
Symmetric handle (38mm or 48mm).
In contrast to the DHP301, the DHP200 has a handle unscrambler. This unscrambles the handles and feeds them into the application conveyor.
Then, the applicator mechanically applies the handles onto the bottle neck.

Need
When blow moulding big bottles (> 2L) by the two-stage process, it is impossible to blow a handle into the bottle itself. Therefore, instead of blown handles, you have external plastic handles. A handle applicator applies these.
(In the one-stage process, on the other hand, there are options to inject the handle immediately into the preform. And for smaller bottles, the deep grip technology is available as well.)

Machine design
The DHP200 is a classic handle applicator with a hopper conveyor, which doses the handles into the handle unscrambler. It doses them precisely, in order not to jam up the vibration bowl.
Then, the handle unscrambler unscrambles the handles onto an infeed conveyor.
Subsequently, this infeed conveyor synchronises the position of the handles with the bottles passing underneath. As soon as the handles are in the correct position, the applicator applies the handle mechanically and pushes it down during its movement.
On the exit, finally, there is a bottle ejector which ejects bottles without handles.

ADVANTAGES:
Fairly high speeds
Well known, proven technology
Rigidly built machine
Machine can be refilled without stopping
Optical handle presence & position detection
COMPONENTS
In/outfeed conveyor
Bulk infeed system
Unscrambler
Handle applicator
The infeed conveyor can be any type, chain or flat belt.
Delta Engineering can supply you the handles as well. One of our partners designs them. There is a lot of detail in the development of a handle, so profit from our experience!

OTHER VERSIONS
Handle applicator (without handle unscrambler): DHP301

PRICE
RESOURCES
If you need further information or if you have any questions, suggestions or comments, please contact us on:
Contact details