Pallet roller conveying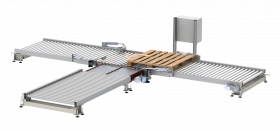 Pallet roller conveyor
Need
We highly recommend pallet conveying in automation, because, in addition to conveying products from point A to B, it also generates buffer.
And in production, this is a very important feature, because it allows operators to resolve problems on the stretch wrapper without affecting the production: it prevents the machines from stopping.
For this reason, it is useful to use pallet roller conveyors.

The conveying system
At Delta engineering, we have developed our own pallet roller conveyors, for different reasons.
Firstly, our rollers are close to each other, which allows us to send pallets through in any direction.
Secondly, our roller conveyors exist in different widths:
for the USA: 1560 mm wide (machine CR1560)
and for the rest of the world: 1240 mm wide (machine CR1240).
Typically, we divide pallet conveying sections into short sections to collect just one pallet. As a result, this allows us to accumulate pallets without touching.
Furthermore, there is a full range of possibilities:
Side transfers
Rotary tables
Pallet lifters
Strappers
Stretch wrappers
…
Moreover, the rollers are controlled by our DLC Line Control systems, which allow software simulation in complex systems.
Additionally, you can have this pallet roller conveyor in different shapes: L-shape, T-shape or X-shape (see 'Machine pictures' below).
Download our technical catalogue for more specifications.

ADVANTAGES
Can be integrated in Delta packing machines to obtain a fully automatic line.

RELATED MACHINES
Pallet dispenser: DPD250
Pallet duplicator: DP050
Palletizers with integrated roller conveyor: DP240, DP252, DP263, DP290, DP300
Pallet lift: PLM100
Pallet transfer car: DTC1240

PRICE
RESOURCES
If you need further information or if you have any questions, suggestions or comments, please contact us on:
Contact details