DKP200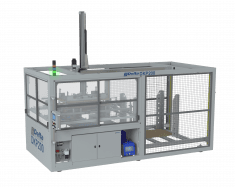 Cardboard tray former
Need
Cardboard trays are mainly used to store bottles on a pallet. Most slower lines use manually-fed trays or tray warehouse dispensing machines towards the palletizer.
However, in today's market, speeds are increasing and labour saving pays off easily for the investment in a tray assembly machine.
After all, on high-output machines, making trays can take up to 25-50 % of an operator's working time.
Therefore, we developed the DKP200, which can make up to 120 cardboard trays per hour.
Alternatively, you can use this machine to feed in flat sheets on our standard range of palletizers, for example the DP240, DP252, DP263…

The machine
You can store a stack of 900mm (height) of unfolded trays in the warehouse: e.g. 300 trays of 3 mm thick. Depending on your tray design, all tray dimensions between 600 x 400 mm (23″ x 15″) and 1200 x 1200 mm (47″ x 47″) are possible.
A vacuum gripper grabs the flat sheet tray and feeds it into the tray bending & gluing station.
Then, the unit applies hot melt glue to the corners of the tray and bends the edges upwards.
After that, the cardboard tray is fed out on a flat belt conveyor towards the palletizer.
While a first tray is lying on the outfeed conveyor, the unit can already set down a second one, while it is folding a third tray.

Avoid design mistakes!
Please reach out to our specialists so we can help you with your project from the early start of the design phase.
Because often, trays are wrongly designed, which has an impact on cost & line efficiency.

ADVANTAGES
Economical machine
Saving working time of 1 person in case of faster blow moulders
The trays are glued with HOT MELT
PRICE
RESOURCES
If you need further information or if you have any questions, suggestions or comments, please contact us on:
Contact details