DC828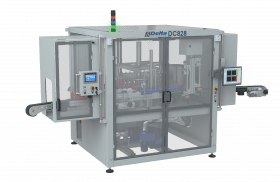 High speed rotary trimmer – spin dome trimmer
Need
Due to the rising speeds in today's market and the transition from HDPE to PET, the need for adapted machinery is eminent.
We are presenting a range of rotary trimmers, following the market's needs:
High speed HDPE trimming, often behind rotary wheels
High speed PET trimming, often used in the creating of wide mouth jars, as this market is increasing, replacing glass jars
The machine
The DC828 is a high speed rotary trimmer: a spin dome trimmer for bottles with a round lost dome.
The bottles run into the machine and are fed into the star wheel. Then, the bottles are grabbed by the lost dome and run over a curved knife.
In this way, the bottle is trimmed off from the lost dome, and the lost dome gets disposed through a scrap ejection tunnel.
Moreover, the rotary trimmer has a scroll infeed, feeding the bottle seamlessly into the star wheel.
Furthermore, an integrated camera inspection is optionally available, checking the integrity of the neck trim. In case of defect, the bottle is rejected from the trimmer.
The DC828 rotary trimmer can trim heads with a neck diameter up to 80 mm, depending on the design and material distribution.
Although the machine is suitable for round lost heads only, the bottle body can be oval, square, etc.
Most importantly, spin trimming is not about the machine, but about the lost head design. In other words, getting the right quality and scrap free production is strongly depending on the design of the lost dome.
Profit from our +25 years of experience and let us help you designing the right lost dome for your product. Please see our articles in our Knowledgebase.

ADVANTAGES
Cuts the bottles in-line & standing
Different profiles are available
Perfect cut, through adjustment of knife
The bottles are guided by the lost head, so that you can use the same rotary trimmer for different bottle shapes.
Scrap extraction
High speed unit, up to 30.000 BPH, depending on bottle geometry
OTHER VERSIONS
Spin dome trimmer for round lost heads (lost domes) – short version: DC100
Spin trimmer for round lost heads (lost domes) – long version: DC150
Cutting machine for non-circular heads: DC200
Laser cutter: DC401

PRICE
RESOURCES
If you need further information or if you have any questions, suggestions or comments, please contact us on:
Contact details