DSS050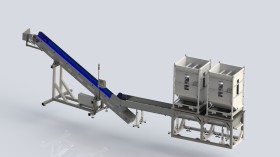 Empty bottle unloading station for flexible silo
Unloading station for flexible silo. Silo's are placed onto the unloading station, and can be unloaded automatically.
The empty bottle unloading station is available in 1 & 2 silo positions.
The perfect unloading is ensured so an operator free operation is guaranteed.
Only suitable for silo type DFS100 & DFS150 (silos with base outlet).

RELATED MACHINES
PRICE
RESOURCES
If you need further information or if you have any questions, suggestions or comments, please contact us on:
Contact details