UDK050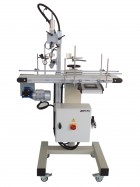 Economic leak tester – 1 head
Economic leak tester, 1 head , specifically designed for the testing of empty plastic bottles.

ADVANTAGES
Wide range of products can be tested
Simple operation and clear overview of test results
Short change-over times thanks to recipes
Mobile system that can be swapped between production lines

OTHER VERSIONS
FAQ
How many bottles per hour can I test? Please check out our
leak test calculator
How accurately can I test?
PRICE
RESOURCES
If you need further information or if you have any questions, suggestions or comments, please contact us on:
Contact details