UDK310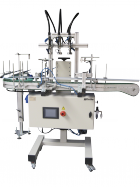 Leak tester – multiple heads
Leak tester – multiple heads, specifically designed for the testing of empty plastic bottles – 1 up to 4 heads.
Bottles are running into a stopper and accumulating. once the right amount of bottles in position, the test cycle starts.
When done, the faulty bottle is rejected at the end, after the gate.
ADVANTAGES
Wide range of products can be tested
Simple operation and clear overview of test results
Short change-over times thanks to recipes
Mobile system that can be swapped between production lines
Wide range of possibilities: blocked bore detection, fallen bottle detection, …

OTHER VERSIONS
FAQ
How many bottles per hour can I test? Please check out our
leak test calculator
How accurately can I test?
PRICE
RESOURCES
If you need further information or if you have any questions, suggestions or comments, please contact us on:
Contact details