Importance of the surface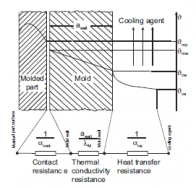 In blow molding the blowing pressure is extremely important.  An article from the University of Aachen with a theoretical model on the importance of the pressure in function of the surface geometry.
Impact on the thermal conductivity, thus the cooling time, as well as the surface conditions, glass blasted, sand blasted, polished, listed in descending heat transfer ratio.

Protected content, please log in
Please log-in / register in order to see this content
If you need further information or if you have any questions, suggestions or comments, please contact us on:
Contact details