CSG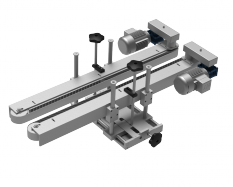 Side grip conveyor
Need
We designed our side grip conveyors specifically to handle empty bottles.
Because they are very versatile, you can use them for different applications:
Uprighting lying bottles
Transferring bottles from one conveyor to another
Transporting bottles in a system where the bottom has to be accessible: Base inspection (for example, in camera inspections)
Avoiding bottles being pushed through on conveying lines
Spacing of bottles on a conveyor
…
The machine
The side grip conveyor is suitable for all types of products.
Different lengths (up to 1200 mm), speeds (up to 42 m/min) and drive systems are available.
Additionally, you can mount an encoder to track the distance.
You can buy this assembly separately (as a standalone unit) or as a part of a complete solution (for example, unit integrated on a moveable feet: see 'Machine pictures').
Spring loaded belts to hold the bottles and not crush them
Also, it has a spindle to raise or lower the system
Spindle to change the opening according to the bottle width
The side grip conveyor is driven by two motors so different speeds can be applied for certain applications.

Moreover, there is a fully shielded version available as well: DSG.
Download our technical catalogue for more specifications.

OTHER VERSIONS
Flat belt conveyor – without vacuum: CFXXXX
Flat belt conveyor – with vacuum: CV200
Chain conveyor: CD083, CD254
Adjustable side guidings: ASG

PRICE
RESOURCES
If you need further information or if you have any questions, suggestions or comments, please contact us on:
Contact details