DB100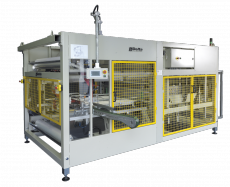 Pharma bagger, fully automatic
Pharma bagger, compact and fully automatic machine to pack bottles into bags.
Width adjustable 350–550mm / 400–600mm / 500–800mm, length adjustable between 200 and 600mm.
Optionally we can make hermetically bags or add a shrinking tunnel
(Because of this a better stability and manipulation of the bags is achieved).
Read our
article
on perfectly welded bags !
ADVANTAGES
Flexible unit (can pack wide range of products)
Fast changeover times
Reduces the manual labor and packaging material cost resulting in a short return on investment
Hygienic way of packaging

OTHER VERSIONS
Bagging machines for bottles:
DB112
,
DB122
Bagging machine for containers:
DB142
High speed bagger:
DB222
RELATED MACHINES
PRICE
RESOURCES
If you need further information or if you have any questions, suggestions or comments, please contact us on:
Contact details