DPB100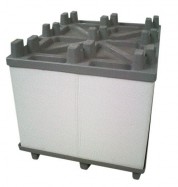 Pallet box
The pallet box can be used to stack full height pallets with bags and still keep the products protected without raising the costs.
It is a perfect solution to store empty plastic bottles. Bottles can be bagged and placed manually / automatically in the box, using one of our baggers, or being stacked with one of our case packers !
It takes away the need of stretch wrapping and reduces the packaging costs heavily.

ADVANTAGES
Recyclable
Sleeve can be optimized to product / lorry height – can be color coded for easy recognition
Products are protected
Pallet can be RFID tagged for tracking & tracing
Warehouse can be used up to the roof height
Can be stocked in racks easily, but actually no racks are needed
Can be handled over roller conveyors

RELATED MACHINES
PRICE
RESOURCES
If you need further information or if you have any questions, suggestions or comments, please contact us on:
Contact details