DXR120
Top performance large Micro and Nano CT System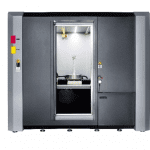 Need
Microtomography is a technique that has been used for a long time already in the medical world, which most of us have encountered already in the hospital: CT scanning.
But did you know that you can use the same technique for bottles as well? Delta Engineering is now making this technology affordable for the blow moulding industry:
Microtomography allows you to:
Generate 3D drawings of products – 'As is': with all their characteristics and possible flaws.
In the near future, we will offer online services to calculate top load, volume, oxygen & CO2 barrier, etc (in an online platform). Moreover, it will be possible to use these data in process simulations, feeding back 'big data' to simulation systems.
Inspect for quality problems: for example, determining how much barrier material is present in a preform
(see picture on the right)
Look into the product: for example, to detect assembly issues:

Is the cap closing everywhere?
Detect internal leakage in pumping systems

And many more!
The machine
The DXR120 is a top performance large micro and nano CT system that collects complex internal and external geometry data.
This CT scanner visualizes the complete bottle with extreme precision.
As a result, you can do a fully automated quality inspection, measuring thickness, inclusions, presence of layers, etc.
Advantages of this top-performance micro and nano CT system:
Micro and nano mechanics and resolutions
Specialized or combined high energy (230KV) and high resolution (nano) configurations
Ideal for in-situ scanning with easy access to the sample and test setup
Flat panel detector or CCD camera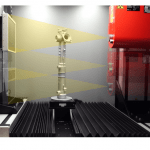 So how does this work exactly?
The CT scanner uses X rays to beam through an object onto a receptor plate. By doing so, it generates a picture.
It takes multiple pictures while the object is turning around. As a result, the pictures are processed into a 3D model. On this 3D model, several structural analyses and measurements can be made as well as optional CAD model export.
OTHER VERSIONS
Compact Micro CT System: DXR100
High performance versatile Micro and Nano CT System: DXR110

PRICE
RESOURCES
If you need further information or if you have any questions, suggestions or comments, please contact us on:
Contact details