QC060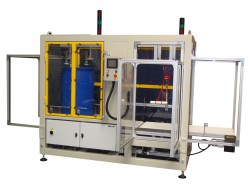 Drum leak tester & check weigher for barrels, L-ring drums
A drum leak tester & check weigher we call it a Quality center.
The leak tester is able to perform pressure decay leak test, handle and blocked bore control.
The integrated check weigher checks the weight and can send feedback of the weight back to the extruder.
In this way we can do active weight regulation and save on raw material.

ADVANTAGES
In-line checking (100% of the barrels are checked)
Fast changeover times thanks to recipes
User friendly operation and clear overview of test results
Optional weight adjustment by feedback to extruder control
Positive leak testing possible (ejecting good barrels)
Resolution balance 3g

OTHER VERSIONS
RELATED MACHINES
PRICE
RESOURCES
If you need further information or if you have any questions, suggestions or comments, please contact us on:
Contact details