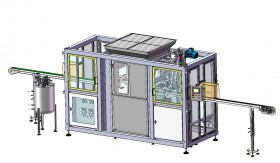 Revestidor por pulverización de botellas
Esta unidad pone un recubrimiento antiestático en botellas PET para evitar problemas en las líneas de llenado y empaquetado.
High speed bottle spray coater
This spray coater sprays an anti-static coating on PET bottles to avoid problems on the filling and packaging lines, like bottle jamming & scuffing. Speeds of +26.000 BPH.