DP551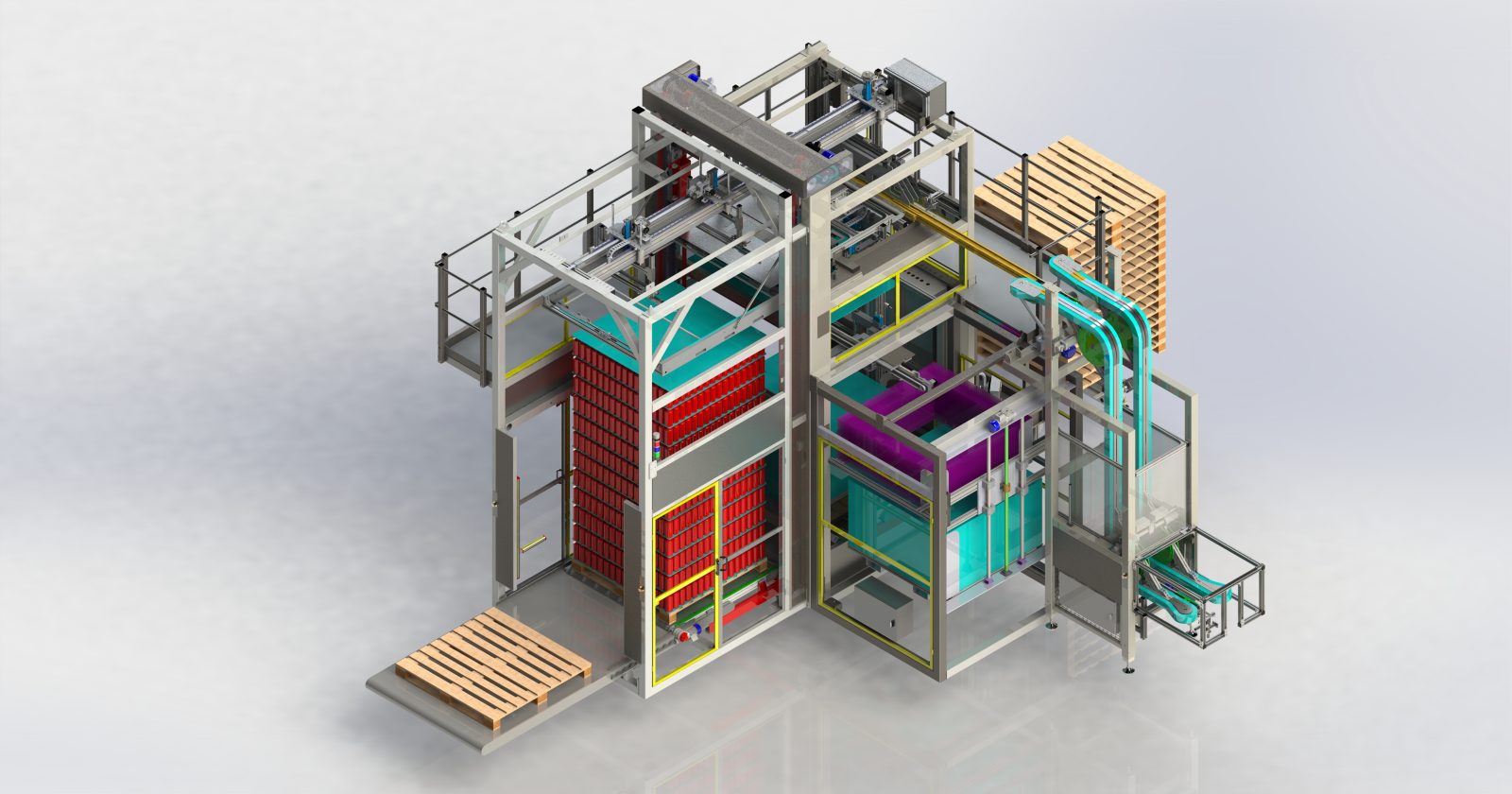 Fully automatic flat sheet palletizer
Need
In today's market where speeds go up and floorspace is precious, palletizing with plastic flat sheets (divider sheets) is still the most economical way of palletizing. This is because there's barely any packaging cost, it's easy to automate on the blow moulding side and it's also easy to depalletize on the filling side. Therefore, our product range includes the DP551, which is designed specifically to make pallets with divider sheets.

The machine
So how does this flat sheet palletizer work?
Firstly, it brings the bottles to a top-level infeed.
This top level is surrounded with a platform so operators can easily access the whole layer forming section. Furthermore, there is a control panel on top and base level for easy access on all levels.
Consequently, thanks to this concept, this is a really compact machine.
This unit can make full height pallets up to a height of 3.1 m. Moreover, it can have 4 different palletizing sections, so it will suit your needs & budget!
Furthermore, it has a full pallet of flat sheets storage. As a result, this heavily reduces the operator intervention time!

ADVANTAGES
Different stacking patterns possible
Modular machine
Very limited footprint
Can handle fairly high speeds
Handles all different pallets: CP1, …, CP9, EUR, IND, LOSCAM, 48" x 56", etc.
OTHER VERSIONS
Semi-automatic palletizer – buffer table 1200 x 1200mm: DP200
Semi-automatic palletizer – buffer table 1400 x 1200mm: DP201
Fully automatic palletizer with integrated tray warehouse – in trays: DP240
Fully automatic palletizer – stackable containers: DP290, DP300

FAQ
How many bottles can I pack per hour?
How can I optimize my stacking pattern?
What are flat sheets / divider sheets / slip sheets?

PRICE
RESOURCES
If you need further information or if you have any questions, suggestions or comments, please contact us on:
Contact details