DPC413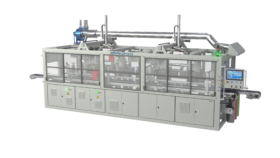 Container plasma coater
This machine can coat containers from 3L up to 15L. The machine can use 2 technologies:
– Carbon deposition on PET containers resulting in an improved O2 ( >30x ) barrier, CO2 ( >7X ) and H20 ( > 2X ).
or
– Carbon Fluor deposition, resulting in a 'fluorinated' container without using actually any Fluor.
This is a quadruple reactor machine and can treat around 440 BPH ( HDPE ) or 600 BPH ( PET )
The machine uses proprietary technology and we will only disclose limited info on our web site, please contact us for more information
ADVANTAGES
Can treat PET & HDPE containers
Improved O2 barrier ( PET )
Improved solvent barrier ( HDPE )
Basically a mono layer container with our plasma coating has better results than a fluorinated or multi-layer container!

OTHER VERSIONS
PRICE
RESOURCES
Si necesita más información o si tiene alguna duda, sugerencia o comentario, póngase en contacto con nosotros en:
Detalles de contacto