DDH025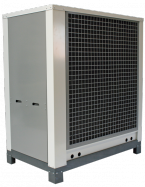 Dehumidifier
The DDH025 is a dehumidifier that uses the latest, state-of-the-art technology.
How does it work?
The dehumidifier is connected to your mould water circuit.
Firstly, the dehumidifier uses the mould water to cool down the air, bringing the dew point down to
8-14°C. The first chilling battery has a chilling capacity of 80kW.
Secondly, a compressor takes out the remaining water. By doing this, we reduce the dew point even further to just over the freezing point: 2-3 °C. As a result, the dehumidifier extracts all humidity from the air.
Finally, we reheat the air to the ambient temperature again.
However, we advise to use multiple units in a redundant setup, serving multiple machines.

Need
Dehumidifying blow moulding or injection production machines is absolutely necessary, especially in humid environments.
As a result of the mould water being between ca. 8-14 °C, condensation appears on moulds.
This causes several quality problems:
Orange peel surface: water condensing on the mould creates marks on the surface of the bottle.
=> In order to avoid such marks on the surface, people often run slower cycle times with a higher mould temperature:
=> But most of the time, this is the reason of cycle times going up (=duration of 1 cycle takes longer). And afterwards, people may forget to lower the cycle times again…
=> Changing the water temperature often results in different shrinkage or different tolerances of the material (e.g. caps…). This sometimes causes bad quality.
Therefore, this dehumidifier is a very useful solution!

Enclosure
An important topic when overpressuring the machine is the enclosure.
The better we manage the enclosure of the machine, the less flow we need. Typically, we need 0,5 m/s as a minimum speed on all air exits.
In this way, we can easily calculate the necessary flow.
There are 2 ways to install this machine:
Enclosing the complete machine
Overpressuring the mould zone only
Enclosing the complete machine is the better way, but also the most expensive one.
Overpressuring the mould zone, on the other hand, might have unwanted parison movements as a side effect.

ADVANTAGES
Avoids quality problems with your plastic processing machines
Faster cycle times
Higher overall efficiency
Very low power consumption (5kW)
FEATURES
Speed regulated compressor
R401a cooling fluid
Electronic expansion valve
Cleanable filter
Condensate pump
PRICE
RESOURCES
If you need further information or if you have any questions, suggestions or comments, please contact us on:
Contact details
Tagged under:
dehumidifier
,
mould water
,
dew point
,
condensation
,
condense
,
humid
,
humidity
,
cool down
,
air
,
cooling fluid
,
enclosing