DC200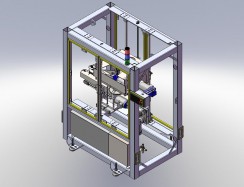 Cutting machine for non-circular heads
Need
Most trimming systems are for round bottles, as most necks are round. However, some bottles have different neck geometries. One of the most famous examples is the Nesquik bottle with its specific shape.
Therefore, we designed this cutting machine to trim 'oddly' shaped bottle necks, like square, oval, rectangular, etc. A special lost dome (lost head) design is necessary to use the DC200.

The machine
Firstly, bottles are running into the machine and are grabbed sideways in 2 areas:
by the lost dome, stabilising the neck
by the body
This setup ensures that the bottles are grabbed in a stable way.
Then, the cutting machine pulls the bottles through a twin rotary knife setup, separating the lost dome from the bottle.
Subsequently, it leads the lost domes sideways, while the bottles continue straight.
Moreover, this setup allows fairly high trimming speeds, needed in today's production environment.

ADVANTAGES
Bottles are cut in-line & standing
Different profiles are available
Perfect cut, through adjustment of knife (without burrs through heated knife)
Scrap extraction
OTHER VERSIONS
Spin dome trimmer for round lost heads (lost domes) – short version: DC100
Spin trimmer for round lost heads (lost domes) – long version: DC150
Laser cutter: DC401
High speed rotary spin dome trimmer for round lost heads: DC828

PRICE
RESOURCES
If you need further information or if you have any questions, suggestions or comments, please contact us on:
Contact details