Preform spraying system
This spray coater with 4 heads is mounted over the infeed bin of the preforms. It sprays coating on the preforms as they are falling into the bin.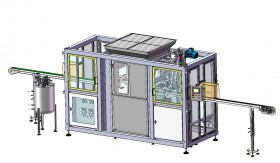 Spray coater voor flessen
Deze machine legt een anti-statische coating op PET flessen om problemen op de afvul- en verpakkingslijnen te vermijden.
High speed bottle spray coater
This spray coater sprays an anti-static coating on PET bottles to avoid problems on the filling and packaging lines, like bottle jamming & scuffing. Speeds of +26.000 BPH.