Preform spraying system
This spray coater with 4 heads is mounted over the infeed bin of the preforms. It sprays coating on the preforms as they are falling into the bin.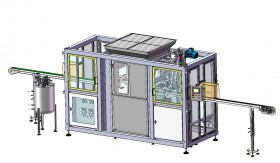 Unité de spray-coating de bouteilles
Cette unité applique une couche anti-statique sur des bouteilles PET afin d'éviter des problèmes sur les lignes d'emballage et de remplissage.
High speed bottle spray coater
This spray coater sprays an anti-static coating on PET bottles to avoid problems on the filling and packaging lines, like bottle jamming & scuffing. Speeds of +26.000 BPH.