Checking neck calibration issues in extrusion blow molding can be easily done with our DVT100. Instead of filling bottles with water and inverting them, and then waiting for several hours to see if a water leak on the neck appears, the DVT100 is a better alternative.
The cap leak test can be done in a very simple way.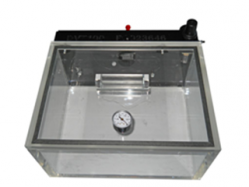 Machine voor het testen van de flessensluiting
Delta Engineering heeft een zeer eenvoudige machine ontwikkeld voor het testen van de flessensluiting. Deze bestaat uit een vacuüm ruimte in dewelke de flessen op een tissue geplaatst worden. Deze laatste verraadt zelfs het kleinste lek. Van zodra deze machine gesloten en geactiveerd is, begint ze vacuüm te trekken. Wanneer het gewenste vacuüm bereikt wordt, treedt het energiespaarsysteem in werking en desactiveert het het luchtverbruik.
Dit mechanisme stelt u in staat de sluiting van de flessendop tijdens de productie te testen en helpt u elke klantenklacht te voorkomen.