Checking neck calibration issues in extrusion blow molding can be easily done with our DVT100. Instead of filling bottles with water and inverting them, and then waiting for several hours to see if a water leak on the neck appears, the DVT100 is a better alternative.
The cap leak test can be done in a very simple way.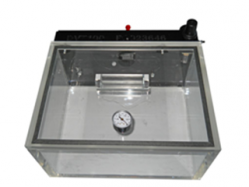 Unidad de comprobación del cierre de botellas
Delta Engineering ha desarrollado una unidad de comprobación del cierre de botellas muy sencilla. Consiste en una cámara de vacío en la que las botellas llenas de agua se colocan sobre un pañuelo de papel, indicando incluso la fuga más pequeña.
Una vez cerrada y activada la unidad, empieza a evacuar. Cuando se consigue el vacío deseado, el sistema de ahorro de energía entra en acción y deshabilita el consumo de aire.
Eso le permite comprobar el sellado del tapón de la botella en producción y le ayuda a evitar quejas de los clientes.