DPR200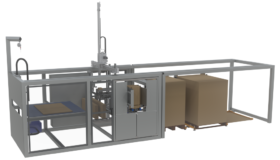 Cardboard pallet assembly robot
Need
Pallet usage is widely spread in today's market. Different types of pallets are available, click here for a list.
Nowadays, wooden pallets are more and more replaced by plastic pallets (returnable) or cardboard pallets, which are recyclable in the current paper or cardboard recycling stream.
After all, wooden pallets have a few downsides:
Availability
High transport cost (only 720 pallets fit on a full lorry, double stacked)
Labour-intensive (double stacking, loading & unloading)
Heavy for the operators
Need for fumigation, because they can contain insects or other bugs. Therefore, fumigation is necessary when shipping in containers.
Dirty, splinters, dust, etc.
Takes a lot of warehouse space.
…
For this reason, we have developed the DPR200: a pallet assembly robot, which allows you to produce your own cardboard pallets in-house!

The machine
This pallet assembly robot allows you to produce your own cardboard pallets in-house at a rate of 10 to 30 pieces per hour, depending on the pallet type.
So this means that you can annually produce 100.000 pallets in-house!
Moreover, it is designed to make pallets of all types, up to 56" (1422 mm) square, and anything below that. For example, it can make all typical pallets like Euro-pallets (1200 mm x 800 mm), industry pallets (1200 mm x 1000 mm), GMA pallets (40" x 48") and American pallets (44" x 56"), etc.
Because it conceives pallets out of locally acquired cardboard, you can save on all the above points.

ADVANTAGES
Flexibly adjustable – the machine can switch between 2 or 3 different board sizes without stopping.
Space saving – you can produce in-house pallets by yourself, so you do not have to provide a storage space for your pallets.
Compact – DPR200 has a compact footprint of 6300 mm x 2200 mm x 3350 mm (1 storage position for top plates), or 7850 mm x 2200 mm x 3350 mm (2 storage positions for top plates).
Safety – safety doors and guards for the infeed/outfeed ensure the safety of the operator.
Easy to use – we designed the user interface to be very intuitive and user-friendly for the operator.
Adjustable – positioning of bottom blocks possible according to preferences.
Fast payback!
PRICE
RESOURCES
If you need further information or if you have any questions, suggestions or comments, please contact us on:
Contact details